St. Patrick's Day: Crafts to Get Your Green On
Winter is on its way out (we hope) and that means that St. Patrick's Day is just a few weeks away! While it's too early yet for corned beef and cabbage, it's not too soon to start fun crafts to celebrate the Irish holiday. Here are few St. Patrick's Day crafts to get your green on.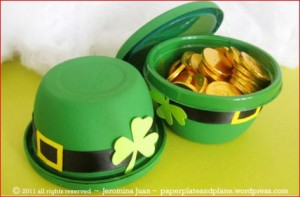 Leprechaun Loot This is probably the most fun craft-turned-party-favor you'll find for St. Patrick's Day! It's a leprechaun hat that doubles as a pot of gold! A few plastic food containers, paint, construction paper, and a bag of chocolate gold coins will make you look like a crafting hero and entertainer extraordinaire. For a tutorial, check out Paper Plate and Plane's blog.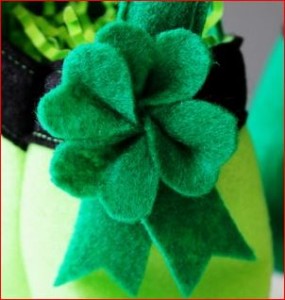 Elegantly Green For easy pinch-protection, a felt shamrock is the go-to embellishment for any outfit! This is another craft that will make use of your heart-making skills. Splendid Amy guides you through a few snips, a couple of stitches and the tiniest bit of hot glue to make the sweetest shamrock to put on a hat, a headband or to wear as a pin! This craft will have you counting down the days to March 17!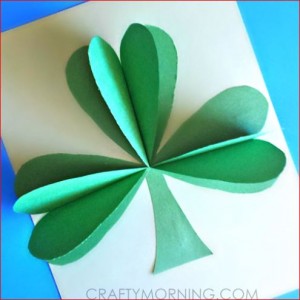 Holy Trinity If you got a lot of practice cutting out hearts for Valentine's Day, you're primed for a fun and easy shamrock craft! Crafty Morning came up with a simple way for children to craft paper into a piece of 3-D art! All you need are green construction paper, glue, scissors and a paper mount for your masterpiece.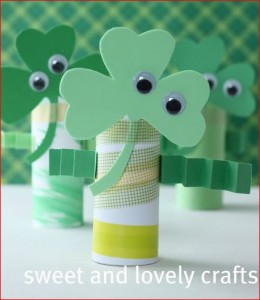 Showy Shamrocks If the idea of spring has you feeling a little whimsical, help your little ones change toilet paper rolls into little shamrock men! This will keep their hands and brains concentrated on carving shamrocks out of green construction paper to dress up the cardboard tubes for playful decor on St. Patrick's day. Follow Sweet and Lovely Crafts detailed instructions for a craft-filled afternoon.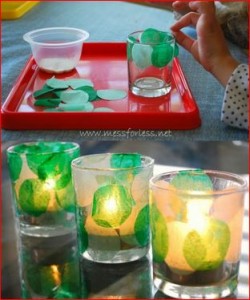 St. Patrick"s Day Glow Extra jars or upcycled glass candle holders can be the object of a delightful St. Patrick's Day craft! With craft glue and green tissue paper, your shamrocks will give your St. Patrick's Day decor a warm glow! Mess for Less takes you through each step to make these simple yet classy crafts that children will love to make.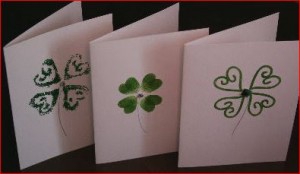 Shamrock Salutations For faraway Irish friends, send some shamrock salutations with homemade cards! A heart rubber stamp, glue, glitter, and paint turns a simple piece of paper into a St. Patrick's Day keepsake for loved ones you want to reach out to on March 17. Child Made Tutorials lays out all of the instructions on how to make a heart into shamrock as well as shows you the sparkling finished product.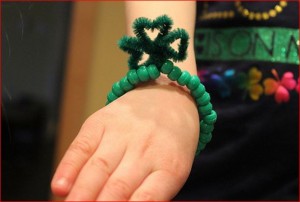 Playful Pipe Cleaners When life hands you green pipe cleaners, make shamrocks! Lacy from Catholic Icing twists and shapes pipe cleaners to make adorable favors to hand out on St. Patrick's Day. To take it a step further, turn the shamrocks into something wearable! Beinglds.blogspot.com has a sweet step-by-step on how to make shamrock bracelets with those pipe cleaners. With these awesome accessories, no one will get pinched on St. Patrick's Day.
At the Lakeside Collection, we love a good party! Whether it's St. Patrick's Day or the 4th of July, we have ideas and products to help you celebrate every holiday!